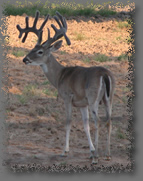 Hunters seeking mature and/or management deer will hunt in one of our 30 double blinds with one of our knowledgeable guides. Don't forget that these packages also allow each hunter to take a doe (when available) and a hog.
This year we will give our hunters an excellent opportunity to hunt some great south Texas deer. The bucks we harvest are taken at their prime. They will be anywhere from 100 to 180+ class deer. These are 5 1/2 year old deer and have reached their potential. They also make great corporate deer hunts.
This south Texas hunt will be 3 days and 2 nights in our 9000 square foot lodge with meals. Like the trophy hunt this south Texas hunt will be guided and will also include a doe when available and a pig hunt.  This hunting package also includes lodging and meals. Deer processing on site is available.
3 day / 2 night package
Your 3 day 2 night Mature Deer Hunting package includes food, lodging, use of the Circle T pool and Cabana, and 12 stocked lakes. If you enjoy playing golf; bring your clubs and you can play at the Carrizo Springs Golf Course. It is all available at Circle T.
All of our hunting packages begin the first day at noon and are completed at noon on the third day. Hunting Packages include:
Lodging in a luxurious atmosphere with private bedrooms with two twin beds
Gourmet Meals – Brunch and Dinner
One-on-One Hunting Guide
New Double Person Hunting Box Blinds
Dressing/Skinning/Caping/Quartering on all packages
Fishing in our 11 acre trophy bass lake
Use of the trap and skeet range
Pool Table
Satellite TV
Large Flat Screen TV
Swimming Pool with Cabana
Nightly Fire in the large Circle T Fire Pit
Golf at nearby Carrizo Springs Golf Course, additional fee
Deer Hunts include: 1 buck, 1 doe, 1 pig and unlimited varmints.
Prices are as follows:
Up to 125 Boone and Crockett Gross Score $2,750
125 to 140 Boone and Crockett Gross Score $3,750
141 to 150 Boone and Crockett Gross Score $3,750 plus $175 per inch
above 141 Boone and Crockett Gross Score
151 and up Boone and Crockett Gross Score $5,500 plus $225 per inch above 151 Boone and Crockett Gross Score
PLEASE NOTE: Irretrievably wounded (blood, bone or meat) animals are considered dead animals and full price will be required on the guides estimated score. Should the situation call for bringing in tracking dogs, the hunter will be responsible for tracking fee.
Reservations
Circle T Hunting Ranch is the premier place for your next deer hunt. Our facilities are open year round and are ideal for family reunions, weekend getaways, year round fishing or just spending a relaxing weekend in the country. Our lodge can accommodate up to 30 guests and off season packages can be customized to suit your needs.
For reservations and information please contact us by e-mail or by calling
(713) 576-8270 to create your ideal weekend at Circle T Hunting Ranch.