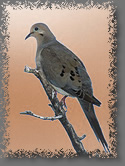 Circle T Hunting Ranch is ideal for dove hunting during the South Texas Dove Season. The ranch has 3200 acres of high fenced property along with 1100 acres that is commercially farmed year round. Circle T Hunting Ranch has planted Milo, Sesame and Sunflowers which will bring in the dove populations for this year's hunting season.
3500 doves were killed in the 2014-2015 season.
Call now to book your South Texas Dove Hunt for the special two weeks of White wing hunting in September
3 day / 2 night package
Your 3 day/2 nights Dove Hunting package includes lodging, meals, use of the Circle T Hunting Ranch pool and Cabana and the 11 acre trophy bass lake and skeet range. If you enjoy playing golf; bring your clubs and you can play at the Carrizo Springs Golf Course. It is all available at Circle T Hunting Ranch.
Lodging in a luxurious atmosphere with private bedrooms with two twin beds
Gourmet Meals – Brunch and Dinner
One-on-One Hunting Guide
New Double Person Hunting Box Blinds
Dressing/Skinning/Caping/Quartering on all packages
Fishing in our 11 acre trophy bass lake
Use of the trap and skeet range
Pool Table
Satellite TV
Huge Flat Screen TV
Swimming Pool with Cabana
Nightly Fire in the large Circle T Fire Pit
Golf at nearby Carrizo Springs Golf Course, additional fee
Cost: $975/per person
Reservations
Circle T Hunting Ranch is the premier place for your next dove hunt. Our facilities are open year round and are ideal for family reunions, weekend getaways, year round fishing, or just spending a relaxing weekend in the country. Our lodge can accommodate up to 30 guests and off season packages can be customized to suit your needs.
For reservations and information please contact us by e-mail or by calling
(713) 576-8270 to create your ideal weekend at Circle T Hunting Ranch.